Episode 1 : A positive step for women's rugby
Through our partnership with The British & Irish Lions, our aim is to make a positive impact on women's rugby. In the first episodeof The Changing Room, Jenny Drummond, speaks to former England International and member of the Feasibility Study Steering Group, Shaunagh Brown, Chair of the Feasibility Study Steering Group and Chairman of The British & Irish Lions, Ieuan Evans. And, Head of Brand at Royal London, Julie-Ann Douglas. They talk about what the feasibility study means for the future of women's rugby.
Shaunagh Brown: There's not really anything going on in women's rugby around the Lions. Let's make it happen. It's not only about the current crop of players, it's about the aspiring players.
Jenny Drummond: Royal London, and the Lions are bringing you the conversations that really matter. And today, we'll be discussing the Women's Lions Feasibility Study. I'll be joined by former England International, Shaunagh Brown, former Lion and current Chairman of the Lions, Ieuan Evans and Head of Brand & Impact at Royal London, Julie-Ann Douglas.
Jenny Drummond: Just how exciting in the whole context, of women's rugby is the possibility of a Women's Lions tour?
Shaunagh Brown: Short answer is exciting. Even for me, now, as an ex player, I'm still excited by the thought of a Women's Lions tour. It's the ultimate in representation for me in rugby. So for a lot of sports, but particularly amateur sports, once you have an Olympic Games, you have a Commonwealth Games, but for rugby fifteens, you don't have that option. And the fact it's every four years and it's similar to an Olympic cycle every four years. And, yes, it is [an] incredible experience going to a World Cup representing for me, England. But if there's like another level and especially as an elite athlete you always want more, no matter what you do, no matter how well you do, and that's not just in sport. That's in business.
Ieuan Evans: It's addictive isn't it? It is addictive.
Shaunagh Brown: You get, you get to the top of your game and you think, well, what next? And if there's nothing that you want to create something there. It's not only about the current crop of players, it's about the aspiring players and part of the reason why we're here at Tunbridge Wells is to also recognise the grassroots level of players. And if you give them carrot of, yes, you're playing here and now, but this is going to be the foundation for your career. And as you get older and the more you learn, and the more you put in, the more you can take from rugby. One day you could play for the British & Irish Lions too.
Jenny Drummond: Ieuan, the possibility of a Women's Lions tour is simply incredibly exciting. Can you talk us through the work that's been done over the past year, and what part of the stage we're at now?
Ieuan Evans: Well it was a pretty long and robust process, but what was important, what drove this, we needed expertise and experience around the table. Broadcasters, unions, administrators and World Rugby as well, all engaged in this process. And everyone had their moment, several moments, in which to engage, to contribute, to challenge, to scrutinise. And that in essence is what the steering group was about. It's about bringing the right people into the room to discuss this. You know, what is [a] really exciting prospect.
Shaunagh Brown: When you have that environment where it's safe and OK to challenge each other, that's when you come to either the best conclusion. So it's good to see, to see that from each different person as well.
Julie-Ann Douglas: It was really important from a Royal London standpoint, even though we funded the feasibility study, to actually be part of the steering group as well, and have a voice. And also to kinda hear all the other perspectives around the table. That was just fascinating and eye opening for us. It wasn't just about Royal London funding the feasibility study. We really want to be part of the legacy.
Shaunagh Brown: So even for a company like Royal London to come in and literally hoof down the door, and say, we want to help women's rugby, which then helps women's sport, which generally helps women. And if Royal London are concentrating, and The British & Irish Lions are concentrating on women at this moment in time, I want to be involved.
Ieuan Evans: I firmly believe that the Women's Lions would be a strong addition and a critical addition to sustaining the Lion's future. So it's the detail now that allows [it] to take its course, the process, that detail, which is all important particularly when you're talking about something of the magnitude of a British & Irish Lions tour.
Jenny Drummond: Thank you all very much for today. I think the collaboration between Royal London and the Lions is incredibly exciting. To see a Women's Lions tour in the future - it's a very, very exciting prospect indeed. So thank you all. Well, thank you for watching The Changing Room, and be sure to keep an eye out for episode two in the series, coming to you very soon.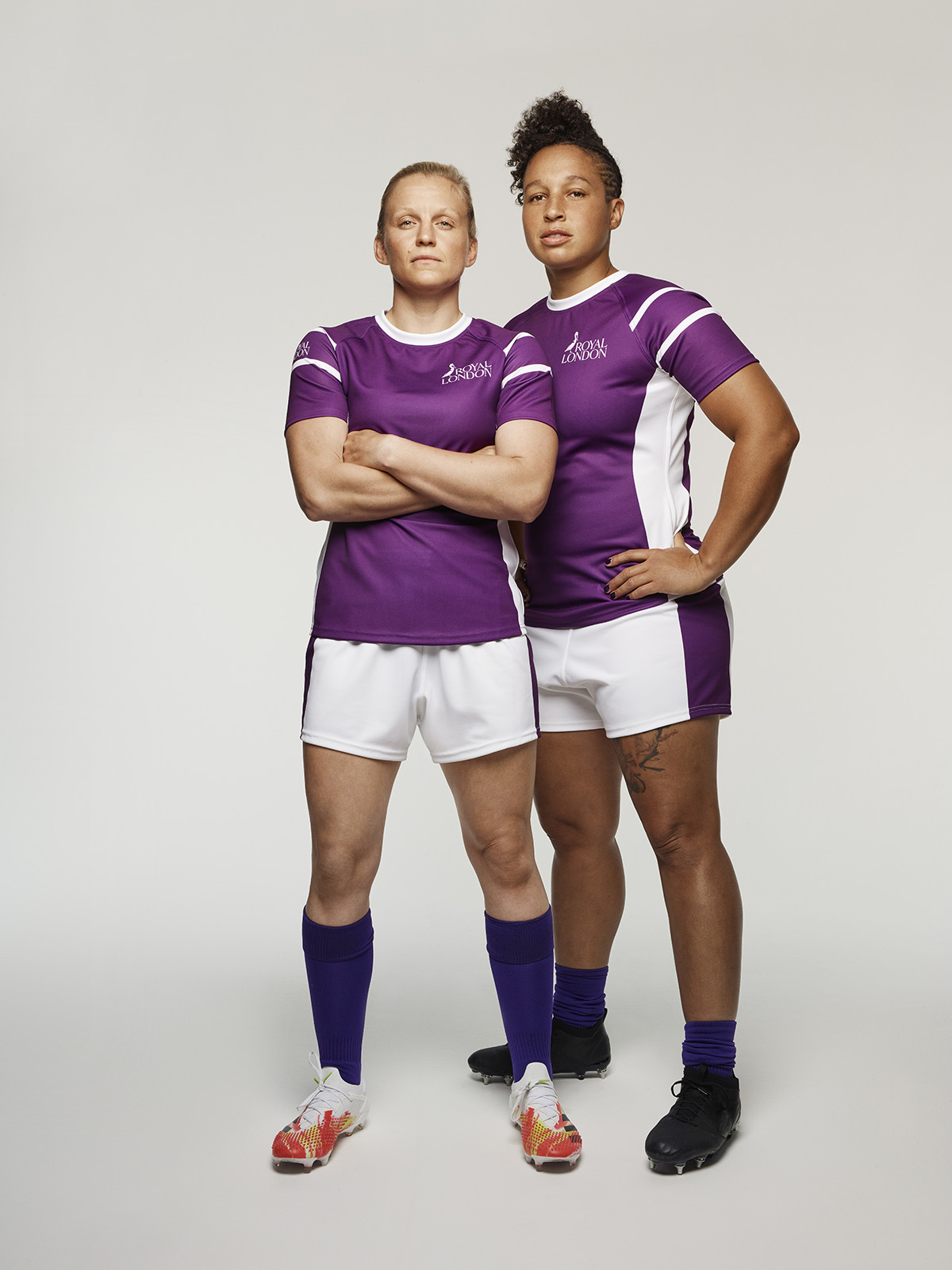 We're proud that Claire Molloy, Bristol Bears Women's and former Ireland Women's Rugby Union International, and Shaunagh Brown, Harlequins Women's and England Women's International, are our official Royal London ambassadors. They support and champion our mission to break down barriers and be an advocate for women in sport.
"As a Royal London ambassador, I hope to showcase how women's rugby can be a commercially viable sport, bursting with fantastic role models for companies like Royal London to invest in and to grow the game for everyone." - Claire Molloy
About Royal London Ireland