Proud partners
As a Global Partner to the Castle Lager Lions Series 2021 and the first ever Principal Partner of the Women's Lions Programme, we're committed to breaking down barriers and levelling the playing field.
Together, we can make a real difference.
Levelling the playing field
Together with the Lions, we're launching a study that will consider whether a women's Lions team could be established.
At Royal London we are committed to levelling the playing field through our partnership with The British & Irish Lions. During the 2021 Tour, we discussed some of the barriers the game faces and some of the great work being done to break down these barriers. We heard from the Lions and Springbok players on how we can continue to level the playing field.
Through our partnership we aim to make a positive impact on the continued success of women's rugby.
Women's Rugby Feasibility Study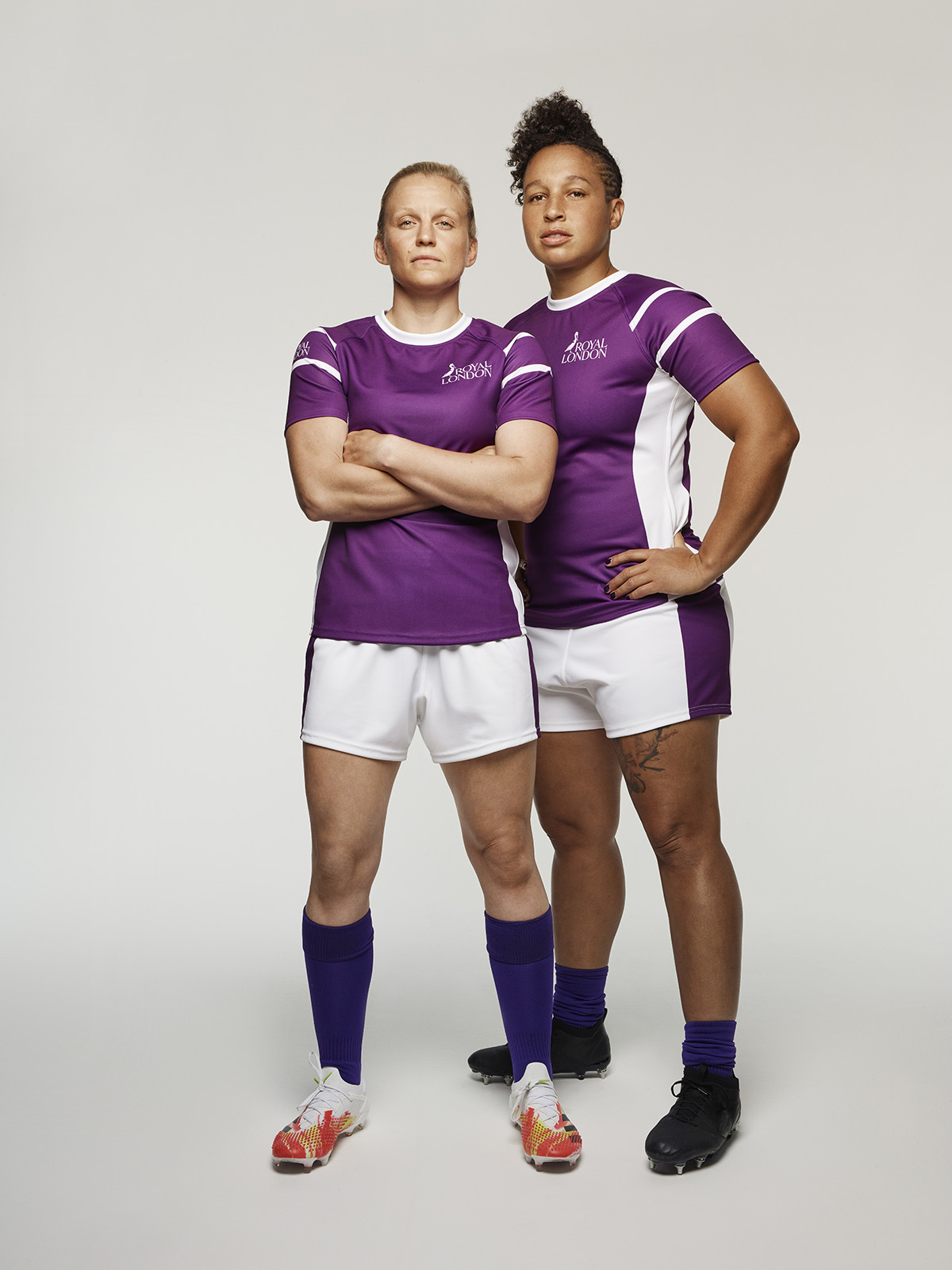 Royal London is welcoming rugby players Claire Molloy and Shaunagh Brown as Royal London Ambassadors alongside the brand sponsorship of The British & Irish Lions.
Working with Claire and Shaunagh, Royal London aims to shine a light on women's rugby, raising its profile in the wider sporting community and working to break down barriers currently holding women and young girls back from participating in rugby.
"As a Royal London ambassador, I hope to showcase how women's rugby can be a commercially viable sport, bursting with fantastic role models for companies like Royal London to invest in and to grow the game for everyone." - Claire Molloy
'Levelling the playing field' series
At Royal London we are committed to levelling the playing field through our partnership with The British & Irish Lions. Throughout the 2021 Tour, we will be discussing some of the barriers the game faces and some of the great work being done to break down these barriers. We will get the thoughts of Lions and Springbok players on how we can continue to level the playing field.
Episode 3

Episode 2

Episode 1
Breaking down socio-economic barriers
As part of Royal London's commitment to levelling the playing field across sport, we spoke to some British & Irish Lions and Springboks players on rugby's role in society. From the Lions camp, Tadgh Furlong, Mako Vunipola and Gareth Davies discuss how rugby can help break down socio-economic barriers. We also heard from the Springboks players Sbu Nkosi, Morne Steyn and Joseph Dweba on the role rugby has played in South Africa in the past and continues to play following their World Cup victory in 2019.
Episode 3
Video transcript
[Mako]: I got into rugby through my parents.
My dad played rugby, and his dad played before him, and his brothers as well, so it is kind of in the family.
I always wanted to kind of follow in his footsteps.
[Morne]: Yeah, luckily I grew up in a rugby family.
My father also played rugby, my two brothers played rugby.
So, we actually grew up as kids, we grew up next to a rugby field.
I was also always the ball boy around the field so, yeah, I grew up in rugby family. And yeah, it was just always in my blood.
[Mako]: It's just an honour and a privilege to be able to represent the Lions.
[Gareth]: Yeah, I do tend to pinch myself sometimes just to make sure that everything is, you know, is really happening.
[Tadgh]: Ah, look it's class.
I think all of us here on the call would have watched, growing up, watching Lions DVD's, watching some of your heroes playing for the Lions. You wouldn't say it's a dream because you never, ever thought it would have happen really, when you are a young fellow and it's just class to be part of the, you know, the history of it, the people who have gone before you, and to be amongst it now, and enjoying it, and having a crack. And, you know, I suppose, being part of history at the same time.
[Morne]: As a child in South Africa, or as a rugby player in South Africa, your dream is to play for South Africa, since you were a little boy.
[Sbu]: Playing for your country is a special thing alone. But I think here in South Africa, it means a totally different thing, because, you know, during the international season, the mood of the country depends on it.
[Joseph]: From where I come from, not the nicest of backgrounds, but it helped me become the man that I am today. It gave me discipline, you know. I have been privileged enough to go to different types of school, to boarding schools, you know and I learned discipline. I learned self-respect out of everything that I used to do and where I was, and it took me from place to place. You know, I started in Johannesburg. I ended up in Bloemfontein, and it just showed me that with everything that happens, it is possible for a kid, coming from a small place as well, that it is possible that you can make it. You just have to work hard. Nothing comes for free in life, so yeah.
[Morne]: There are so many kids out there that, you know, it is a big dream for all of them. And I know a lot of my friends, who I played with at school, their big dream was to play for South Africa,but there is only a handful of guys that is gonna make it. So yeah, for me, I know my brothers, my father, everyone played rugby,and I know their dream also was to play for the Springboks. And like I said, I have the opportunity to do it. And yeah, it gives you the ability to look after my kids to take them through school, through university, and stuff like that.
[Sbu]: I think it's had a very positive impact. I think it's a positive impact that, you know, continues to grow and grow over time. Our motto is stronger together.
You know, given the past that we have as a country, it's a banner that we're setting for a certain change that we want, you know. It's an integration of different forces, from different places, coming together to achieve successes,like we did in 2019 winning the World Cup. It meant a lot more than just winning that specific tournament. And we came home to an absolutely riled up country, where there were millions and millions of people on the streets just to welcome us home, and literally say thank you for lifting the mood of the country. Yeah, so that is the impact that I believe that rugby,and the Springbok brand has on South Africa.
[Morne]: The atmosphere in South Africa, and you can see it doesn't matter if you are black, brown, white, whatever colour you are, you know, we are all standing together, standing stronger like Sbu said.
And yeah, just one thing that I can remember was one of my favourite games was the 2010 Super Rugby Final between the Bulls and the Stormers as well. We played it in Soweto, and for me, up to this day, that was, I think one of my favourite games, just to see the whites, blacks, brown, everyone party together, have a beer together, support the Bulls or the Stormers, whoever. I think that was one of my favourite games.
[Morne]: I think just sitting here listening to Joseph as well. He didn't actually like rugby, grew up in a small town.
And I know a lot of guys in our team, they didn't grow up very well, but like he said earlier, just with hard work, determination, and sacrifices, I think that's because we are sitting here.
[Joseph]: Makazole Mapimpi, you know. He is such a quiet guy, but the things that he had to grow up with, and he had to experience, the things that he had to see, and his upbringing, was just difficult.
[Mako]: He lost his parents quite young, siblings as well. That story there itself is pretty inspiring. What he's been able to achieve in the game, reach the level that he has, with the difficulties he's had to deal with in his life.
[Joseph]: I look at that story and I just look at this guy that he's achieved so much. And at the age that he is at, he's changed his life. He's changed his grandmother's life, his family's life, so that is like a person that I like all the time when I sit there and I listen to him and just talk to him. I just get more inspired and more inspired just to do better.
[Tadgh]: I think that's a massive thing about rugby, isn't it? The inclusivity of it. It's a game for all shapes and sizes, it will take people in, it will encourage people, the respect element of it in terms of the referee, a bit of discipline and following the rules. I think that is a huge part of the game and why it is important.
[Mako]: Anyone can play the gameand those opportunities are available to you. It just takes a lot of determination and hard work. Part of the reason why people love it so much is being part of a team, being part of a community and making friends and family.
[Gareth]: Yeah, I think it's good for kids, especially at a young age to start playing from a young age to sort of learn some of those values that we do have in rugby.
[Tadgh]: To me, rugby is about togetherness, isn't it? It's about the coming together of people and having discipline and a bit of structure, isn't it. And off the field it's about enjoying yourself and meeting the other team, having a drink with them and having a chat. So it's great for the wider community, giving people a home, giving people a place to go and socialise.
[Morne]: I think for us as a team, I think that's a very good, positive thing in our team. I don't think there's any diversity between race and all that stuff that is going on outside.
I think that's what is so nice in this team for me, everyone is the same.
[Sbu]: I think rugby is a growing sport around the world. In South Africa, it's the biggest sport. You know, the impact stems across
various, various places. Into financial situations, into the mood of the country, some kids get scholarships because they are good rugby players and they are able to get afforded a chance to go to university.
So it can even go into the educational sector. And it sets a banner to show that our diversity is more of a strong point than a weakness.
[Morne]: Women's rugby is growing all over the world. So yeah, hopefully in South Africa we can make our team better as well. And we can just see what financially, what this tour is doing to South Africa and how it's helping us. So yeah, it will definitely make a difference in South African rugby and then in women's rugby as well.
[Gareth]: Yeah. I think it would be great for the women's game, especially with the Lions on such a big following. I can't see no reason why not, the women should have a team as well and I think the standard of women's rugby has really improved over the last couple of years, all over the UK. So I can't see why that shouldn't be happening. And yeah, I look forward to the future to see hopefully that will happen.
[Joseph]: If that would happen that would be a massive, I think privilege and an honour for them just to play against a women's Lions team, it would be something big.
[Mako]: The women would love to have that opportunity to be able to represent the Lions. It would probably just show the reach of rugby, and how inclusive the sport is that the women's sport is growing so, it can only be good for the sport and it's a bright future ahead.
[Sbu]: I think that it would be an absolutely huge gesture towards gender equality, something that we are fighting for all over the world.
[Joseph]: One person told me, "Listen, you just have to work hard. And if you work hard, you reap what you sow". If there is a picture of somebody that you look up to just put it there, they just keep on dreaming about it. Just keep on working hard.
[Tadgh]: Just enjoy it, isn't it? You see people and they are so tunnel vision, but it's all about enjoyment really first and foremost. And if you put your mind hard enough to something, you give yourself every opportunity, so enjoy it and work hard.
[Morne]: Don't let anyone tell you, you can't do it. Don't let your parents tell you, because your father didn't play rugby, that he doesn't like rugby. I think the most important thing, you must have a dream
and you must work towards it. If you want to get to the top, you must work the hardest. If the other guy on Christmas day, if he's not training, you must work.
Levelling the playing field
Royal London is committed to levelling the playing field across sport. We caught up recently with Matt Hampson from the Matt Hampson foundation and The British & Irish Lions players Sam Simmonds, Jonny Hill and Tadhg Beirne to discuss the impact rugby has had on their lives; their thoughts on disability in rugby and the work being done by the Matt Hampson Foundation.
Video transcript
[Tadhg] I can't really remember life without rugby, since being in school, preparing for games every week, and that kind of lifestyle.
So, it gives you so many opportunities to meet people, and to experience different cultures, everything.
[Sam] For me, and all the boys here on tour, the opportunities to be able to come to South Africa, to represent your country, and represent the Four Nations, the only reason we've been able to do that is because we went down to our local club, and it was the opportunity that they gave us at the start that we're able to do what we're doing now.
[Matt] Rugby's obviously taken a lot from me, and it was difficult, initially when I had my accident back in 2005.
It was really, really difficult to see the guys that you've grown up with going on, playing for England, and playing for Tigers. It was quite heartbreaking.
But I will say now that rugby actually gives me more now than what it did before my accident. And what I mean by that is the support, and the friendships that I've made through rugby, and I'm on a call with some British Lions players. It's not too bad, you know.
[Matt] I wanted to make life that little bit better for people who are going through this situation. It's a pretty lonely place, because you feel like there's nobody else, nobody else in the world going through this, and there is a lot of people going through this, and it's a really, really difficult time, but once you see the light at the end of the tunnel, and you see that there is a life, and that there is a great fulfilling life in this situation, then you can sort of move on, and achieve amazing things.
So, we're mostly the stepping stone for people to go on and achieve great things in their life, if it's going and getting a job, or even working for the foundation, say for instance, or participating in sport once again.
We're that sort of stepping stone for that,and we give people the confidence, and the knowledge, and backing, to do that.
[Matt] Stadiums are obviously a hell of a lot better now for fans. So, there is that wheelchair accessibility throughout all the big stadiums.
[Sam] Over the years, definitely since I've been at Exeter, it's become a lot easier for people to come and enjoy that, and able to speak to the players after, able to access whatever they want to access, same as any other person coming to the game.
[Tadhg] I think it's about also helping them find ways of being able to play the game.
I kinda look at Ian McKinley as someone in particular,who lost sight in one of his eyes, and he retired from rugby until they came back with the solution of the goggles, and he had to push really hard for those goggles to be allowed in to the game. You know, that was a massive step in terms of finding those kind of solutions for people to be able to play the game.
[Jonny] I think what Matt's done over the last 16 years has been honestly inspirational to me, and I just wanna say like really, really well done. It's really, really cool.
[Matt] Doddie's story is a heartbreaking story, but one that is absolutely amazing, and how he just decides to carry on every day,and is just an amazing man, and an amazing human being and he gives me the drive to continue to do what I do here at the foundation, and we support each other,and that's very much the sort of rugby ethos, really.
[Jonny] Probably just like to say a few words on Rob Burrow, and Doddie, as well as Matt, because those guys, all you guys, played rugby, and that is really relatable for us. And you've realised that you're never too big, and you are as vulnerable as everyone else.
So just puts everything into perspective, for me, about when I'm playing, and if I'm struggling for some motivation or something, just understanding how lucky that I am to be doing what I'm doing, and making sure that I make the most of it, because you never know what's around the corner, and it's hugely important.
And I know these guys have life-changing illnesses, and accidents, and these things are really horrible. So, like I say, it's about me just making the most of my opportunity that I've got.
[Sam] My old school teacher, and one of my best friends' stepfather, Geoff Warne, recently passed away from motor neurone disease, and the love of the game that he had, a love for rugby that he had, sorry, was unbelievable.
And the way that Teignmouth, my home town, and especially the rugby club, came together to support him over the last 12 to 18 months of his life was amazing. And it just shows how someone can have an effect on you,not just you, as a group, and as a community, all through sport, all through the common love of the game of rugby. People of different backgrounds, people of surrounding towns, and stuff like that, all came together to help put money to support him and his family, to allow him to get from life what he did in the last couple of months of his life. So, me and my brother both realised how happy rugby made him. It was quite nice for us to be able to play the game for him.
[Matt] What Doddie's doing, what I'm trying to do, is trying to change a lot of people's lives, and trying to make that little bit of difference to the world, in our own little way. And I think it's just massively important that the game keeps its core values. The best rugby players, I would say, are the best blokes. They're the best human beings. We just feel so, so proud to be affiliated with The British & Irish Lions.
It's amazing. Stay honest, work hard, and just focus on what you want to achieve, and get there, and have belief in yourself really, more than anything. I think to have that strong belief in yourself, and just be a good, decent human being, really.
Investing in the future of women's rugby
As the first ever Principal Partner of the Women's Lions Programme, our Royal London ambassadors Shaunagh Brown and Claire Molloy speak to Lions players Josh Adams, Tadhg Beirne and Iain Henderson whilst on the training camp in Jersey.
They discuss the potential of a future Women's Lions team thanks to the study launched by Royal London to determine its feasibility, how this will inspire the next generation of women's players and the growth of the game around the world.
Video transcript
Caption] Royal London – Global Partner to the Castle Lager Lions Series 2021
And the first ever Principal Partner of the Women's Lions Programme
Funding a study to examine whether a Lion's Women's team can be formed.
[Claire Molloy, Royal London Ambassador] Hi, I'm Claire Molloy, Irish flanker
[Shaunagh Brown, Royal London Ambassador] Hi, I'm Shaunagh Brown, English prop.
[Caption] Our ambassadors caught up with some of the Lions squad on their training camp in Jersey.
[Shaunagh] We're hoping we can inspire the future generation to get more women and girls playing rugby.
[Claire] So they can break down the barriers in front of them and promote the game.
[Caption] How important could a Women's Lions team be for the future of women's rugby?
[Josh Adams, Wales, Wing] I think it'd be unbelievable, first of all. I think for the women's game to experience what we're experiencing, as in coming together collectively from the four different nations.
[Tadhg Beirne, Ireland Back Row] I think it'd be such a class opportunity for all the women out there playing rugby and especially for the younger generations if they were growing up watching a women's team. Wherever a Lions series will be put on, it'd be an extra reason for them to want to play the game. The women's game's definitely growing, which is incredible to see.
[Iain Henderson, Ireland, Second Row] We had a good chat about it earlier, actually, down at dinner and it's like, realistically it's the next logical step, isn't it? Like the woman's game is catching up in almost every other facet, with the World Cups, the Six Nations now we've been running so successfully. So there's, I don't see much reason why there shouldn't be a Lion's Tour.
[Shaunagh] For me it'd be like the expansion of world rugby in general because women's oppositions are not necessarily going to be the same as men, so it'll just be accessible to more people and just opens up rugby to more of the world.
[Claire] I've been around a long time and played in World Cups and Sevens World Cups but the Lions tour is, you know, it's a huge aspirational thing, that's the pinnacle to set yourself against as a woman's player. That's what we're striving for.
[Tadhg] I think it will be really exciting for the opposition too. One thing that kind of struck me from the last tour was the New Zealand players only get to play a Lions tour, or whatever country it be, every 12 years, or it could be even more depending on whatever country you're in. So that obviously grows excitement in that country and in other places around the world to have everyone striving towards working towards a really good goal of a class Lions tour there.
[Caption] From a personal perspective – what could a women's Lions tour mean in the future?
[Shaunagh] Would I rather win a World Cup with England or play for the British and Irish Lions as a woman? And I'm not sure what your answer would be actually it's just that it would mean that much. I'm 31 now, whether it will happen in my playing career, I'm unsure.
[Claire] The Lions tour is a huge aspirational thing. As I said, Josh, you know you want to achieve success on an international stage. You know, you've played in a World Cup with a highly successful Welsh team and you've dominated and played well, but you know, the Lions, that's the pinnacle to set yourself against.
[Shaunagh] We're accepting of the fact that there isn't a women's Lions tour but, actually, when you speak to people outside of rugby and you explain that to them they're like, well why not? And actually in my head I'm like, yeah, why is there not a women's? This doesn't make any sense. What's important now is that people like Royal London are looking into making it happen.
[Iain] I've got a daughter, Alannah who's three and she loves watching me play rugby. She loves that we've got rugby balls around the house, she loves playing with them so I'd, a hundred percent be open to any sort of organisation like the Lions that will be opening her prospects. t will be opening more windows for her to have stuff to strive towards. So I would be more than happy for Alannah to play whatever sport she's into and whatever she wants to do I'll support her all the way and I think for her to have this to strive towards, like I had to strive towards when I was younger, I think will be fantastic.
[Josh] With the women's Lions, as well, I think the participation would grow. I think you'd see an increase in young children at the grassroots level and that will only be a positive thing. So yeah, just like Iain, I would support her in anything she wanted to do and if this was a goal where she says, I want to do the same as you daddy, then that'd be achievable for her and I'd support her in that.
[Caption] What does increased media coverage mean for the Women's game?
[Josh] I know the Six Nations moved to April as the stand alone tournament for the women's and, like you said, the media coverage, having it on prime time TV as well is excellent.
[Tadhg] When I was home, having it on TV I was able to just sit back and watch it and then, when I was in the car, there was a lot of talk about it on the radio and stuff and you'd find yourself getting engrossed in that.
[Iain] Giving the women's game its own stand alone, time to shine, I think it's perfect. It gives everyone a perfect opportunity not to be distracted, to see what value the game actually has. The more it gets to that, the more scope there will be for growth, I think, and that will be perfect for grassroots rugby and perfect for everyone to get involved.
[Caption] What are some of the challenges and barriers you faced?
[Shaunagh] What society says that a girl should be, it was the biggest barrier for me and still is as a woman growing up and now it's like, why would you want to play rugby? Why would you wanna be a gas engineer? Why would you wanna be a firefighter? And it's still so surprising how many women, as well, it's not just men, it's just people want to put women and men, they want to put people in boxes.
Coming into rugby it's the way I talk and I'm not middle-class, I'm not from a classic, typical rugby background, a rugby family and it's like, you sound like you're from south London you surely can't play rugby. I'm like, yeah I can and I'm pretty good at it.
[Claire] I suppose for me, the barriers I found was, like, I came to rugby late, in university, but there wasn't the opportunity to play, you know, there wasn't women's rugby or even women's football within my school. Challenging that kind of gender roles within the sport, society about the game has been difficult and that's ever improving and there's more visibility and all that.
Shaunagh Brown's probably one of my best role models in the current game and, you know, that's fantastic. It's an honour to be an ambassador alongside her with Royal London.
[Caption] What needs to be done to continue to level the playing field for women's rugby?
[Shaunagh] It has to be visibility. It has to be exposure. It has to be our games being on primetime television, even if it's just on in the background. Like our Six Nations, was on BBC Two in the middle of the afternoon and I don't come from a rugby background at all so most of my friends and family circle don't know anything about rugby. And yet I got so many calls and texts after our games were on BBC Two saying that, oh my gosh, I just watched rugby for the first time and it was great. And then accessibility as well.
[Claire] Just investment in underage structure and a pathway for players, you know, growing up watching rugby on TV, my brothers playing rugby and just being exposed to it and an opportunity for them to say, well, I want to play rugby and I want the opportunity. Investment in the structure to allow a girl at six to start playing touch rugby, you know, tag rugby, developing, getting to a teenager, playing games, having an underage competition so that they can be taken from day one to day here.
[Iain] Both your main points there were investment, I suppose good to see Royal London providing that for women's rugby.
[Caption] What advice would you give to any young girls dreaming of potentially becoming a Lion in the future?
[Shaunagh] There's going to be a lot of naysayers. There's going to be a lot of people who tell you don't do it and it's not what girls do, you're going to get hurt but you have to be strong in yourself.
[Tadhg] Believe in yourself, I think that's one of the biggest things you have to do in any kind of sport, you have to believe that you can get to that level.
[Josh] Sometimes things won't go your way but it's always important just to keep backing yourself, keep trusting that, with hard work and determination, at the end you'll be able to achieve your goal.
[Tadhg] If you're just starting out and you're enjoying the sport, keep at it.
[Iain] Always enjoy yourself, like a lot of the time you find you're actually doing what you love and you're doing it with the people you're mates with. Enjoy it.
[Caption] Royal London
It's everyone's business.
Building the future
We were proud to support The British & Irish Lions tour in South Africa.
Recap on the 2021 match schedule by checking the Lions Tour 2021 fixtures.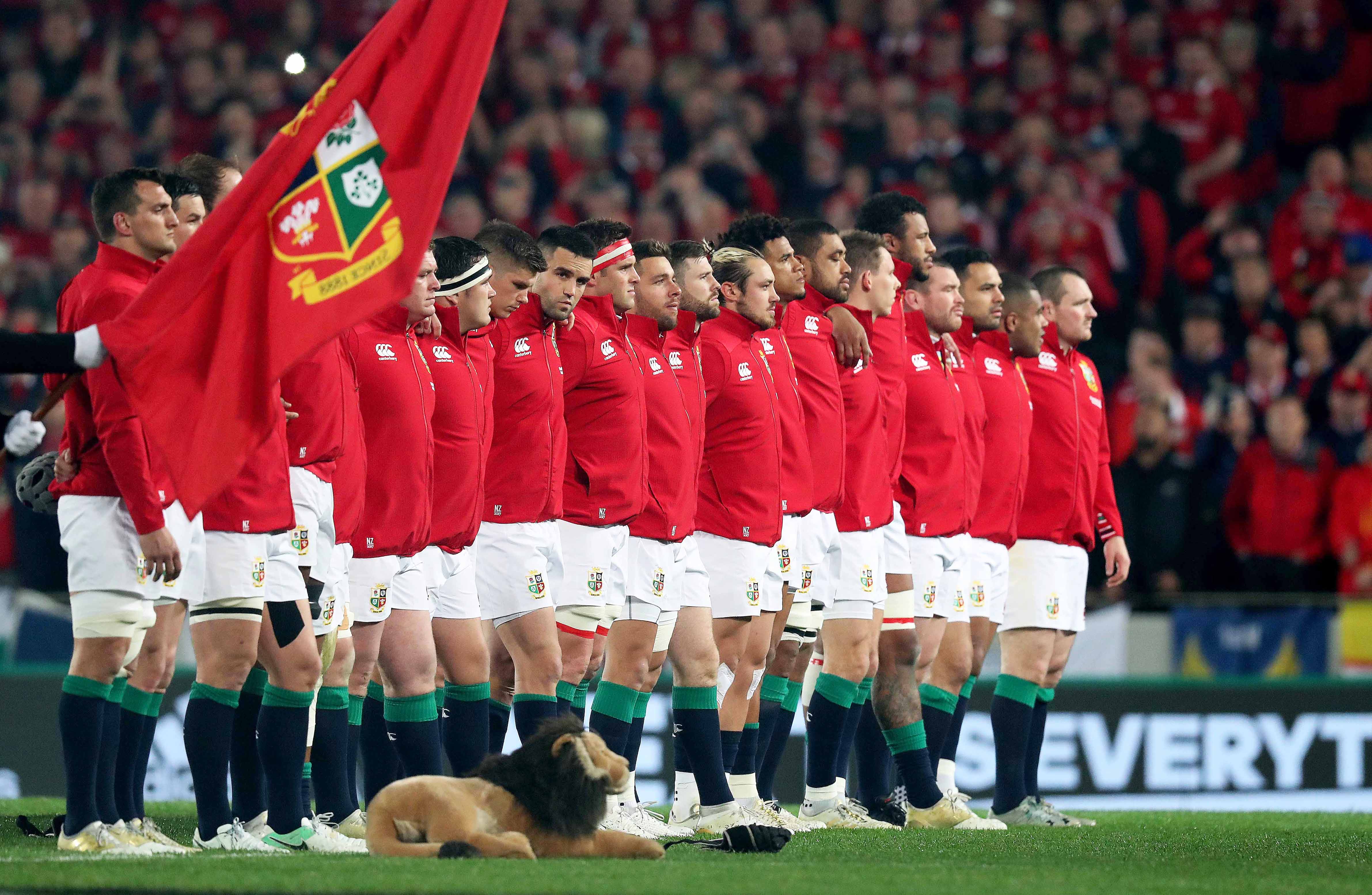 As part of our mutual ethos, people and sharing responsibility for building a better future, are at our heart. We know the positive impact that sport can play across our communities in Ireland and the UK, so we're proud to embark on our partnership to support the Lions tour this year through the uncertain climate brought about by Covid-19.